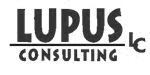 Lupus Consulting was established in 2002 to meet complex requirements in the field of SAP implementation projects delivering solutions that maximize our client's benefit.
Dynamic growth of the company and projects stretching over the EMEA region have led to the establishment of further offices outside Hungary.
Our focus is on SAP consulting and development services in classic ABAP and new technologies (Netweaver and XI). We have set up a Near Shore Development and Support Centre in Budapest, an Outsourcing Centre will "go live" shortly.